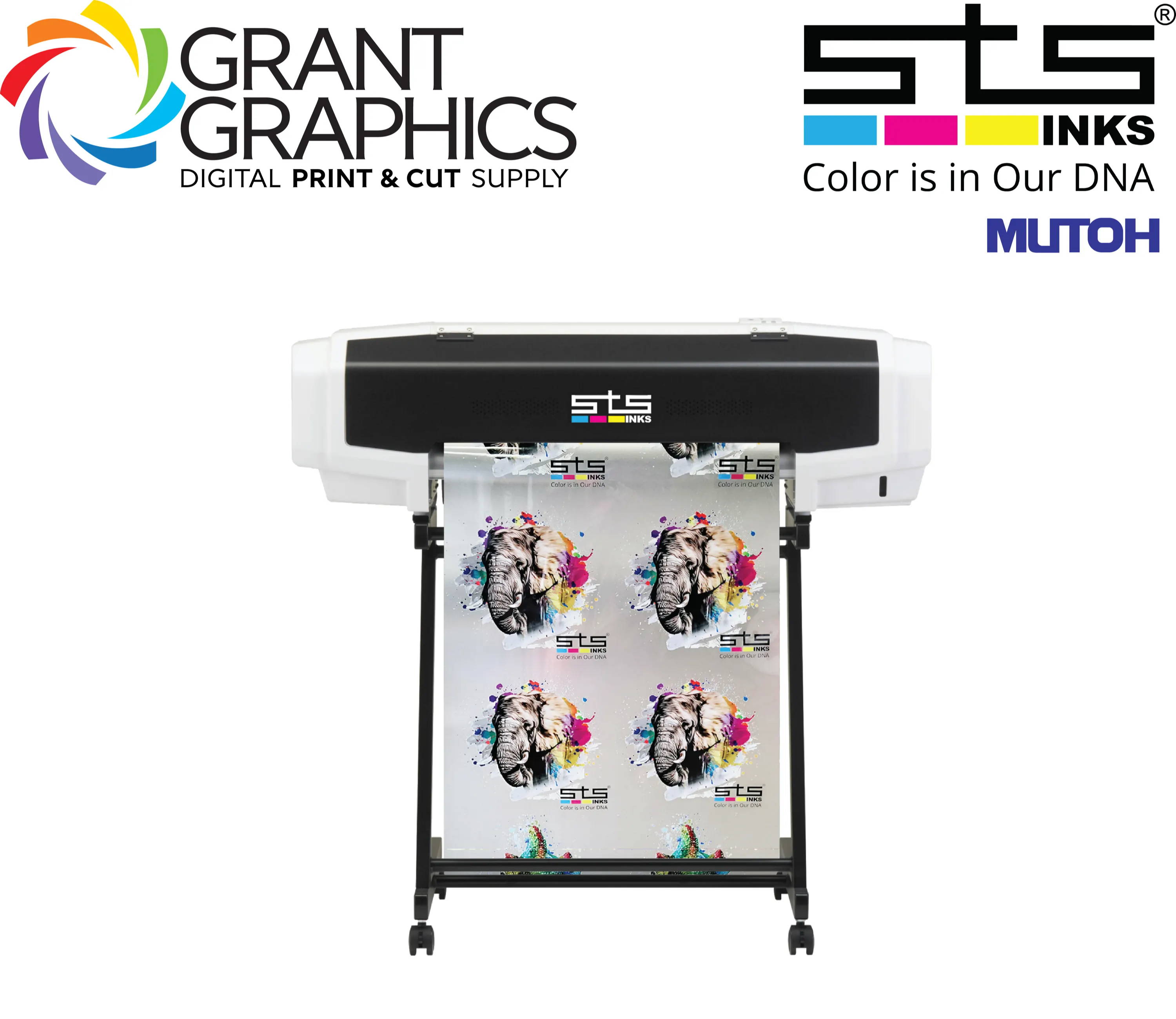 Design - Create your design using your choice of graphic design software (i.e., Photoshop, Illustrator, etc.)
RIP - You'll need a RIP Software to print white on top of color
Print - Print your design onto your choice of coated PET film
Apply - Apply powder adhesive evenly onto the printed film. If performing manually shake off any excess, or if using a powder shaker simply follow unit instructions.
Bake - Melt the adhesive onto the film using a heat press, oven, or heated shaker unit. Ensure even heat throughout at a temperature of 300-325 degrees fahrenheit.
Press - Press your design onto a substrate. Applicable on cotton, polyester, leather, cardboard, and other flat, rough, and rigid materials.
No cutting and weeding required
Crisp, defined edges and images from start to finish
No advanced technical printing knowledge required
A great option for small orders
Low cost on waste
Low investment – high reward
What sets DTF apart from other transfers?
Works on most any fabric!
DTG technology works best on cotton pre-treated fabrics while DTF opens the door to a wide range of choices and is capable of printing onto non-treated cotton, silk, polyester, denim, nylon, leather, 50/50 blends, and more. It works equally well on white and dark textiles.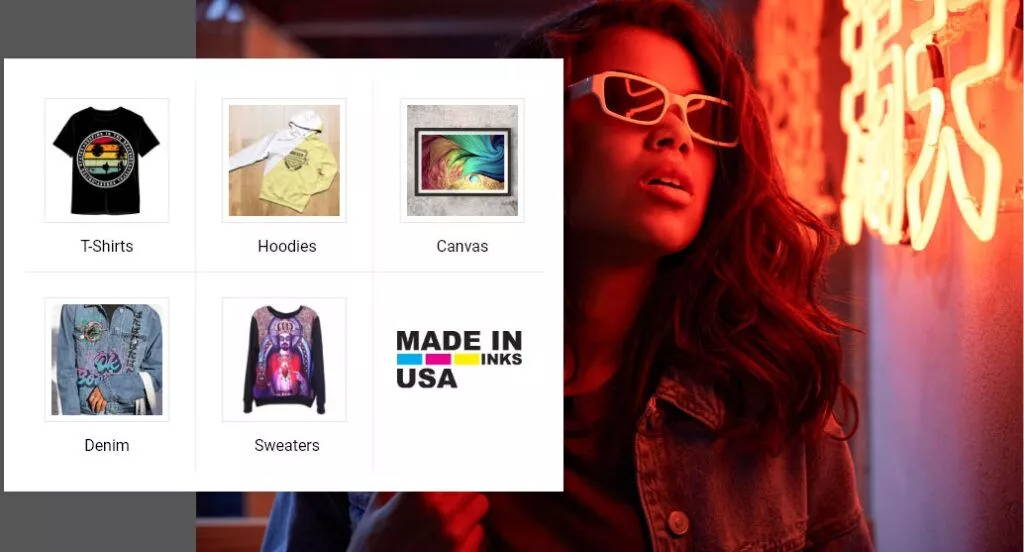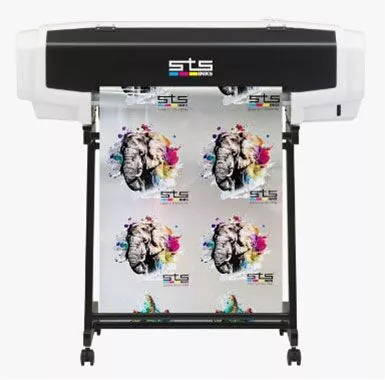 At just 24 inches wide, the STS VJ-628D fits into any size print shop. You can easily and quickly create custom t-shirts and apparel. This Japanese made compact printer even fits onto a table or optional rolling stand for your use. With a low price point and perfect size, the STS 628D is the best option for anyone entering the custom apparel marketplace or wanting to expand their product line.
Features
Made in Japan

Powered by STS DTF Inks

Up to six color slots

Small footprint, tabletop or use with optional stand

Automatic sheet off function

SAI/White RIP STS – DTF

Easy installation

One-year limited warranty
---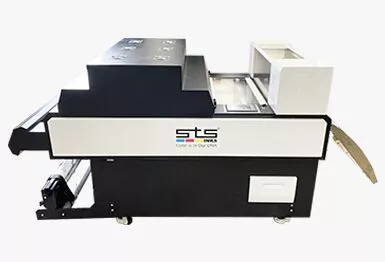 The Auto TPU Powder Shaker
After the STS VJ-628D prints your design, the Automatic TPU Adhesive Powder Shaker takes over by evenly spreading, then melting the needed amount of adhesive material directly onto your printed image, saving time, effort, and cost. Three resources you need to conserve to run a profitable business. Also, with a handy vacuum absorption platform and infrared heat drying, you are assured a smooth result every time.
---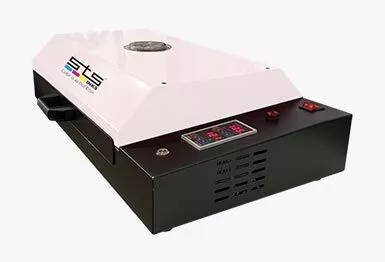 STS Transfer Film Curing Oven
STS Curing Oven has a digital control unit that is easy to set and allows precise settings of temperature and time for consistent results. A fusing process is started at the touch of a button. After the set time has elapsed, an acoustic signal sounds alerting you to remove the transfer film.
---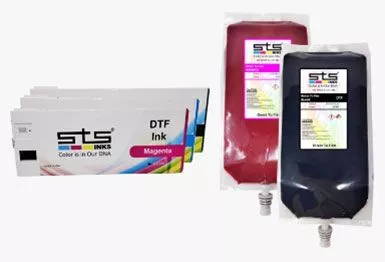 High color density, wide color gamut, outstanding color saturation
Print head safe encapsulated resin + nano pigment
Great wash fastness
Excellent performance
Non-toxic and environmentally friendly
Consistent color from batch to batch
Manufactured in the USA
Available in CMYK and White (Ask about our other color options)
---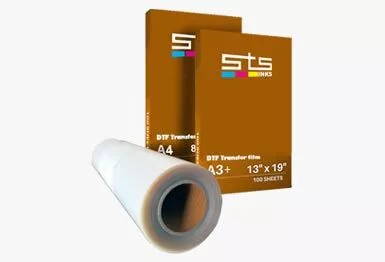 DTF Transfer Film from STS
STS coated PET Film are available in sheets and rolls. This single-sided coated film provides better printer roller traction with minimal static allowing for a great printed image without background artifacts.
Sizes available A3+ (13×19"), A4 (8.3×11") cut sheets and 24×100-meter rolls.
---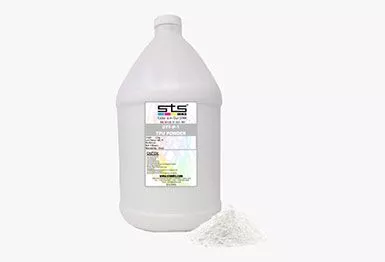 TPU White Powder From STS
Polyurethane hot-melt adhesive powder has excellent bonding and flexibility properties with STS DTF inks. It has a softening point of 70-80 um (particle size). Transfer time is 15-20 seconds at 300-325 F with low melting point (225 degrees F), sold in 1-gallon bottles (2.02kg).
---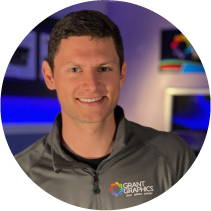 Garrison Grant
518-583-2818
---